The latest
NBUS (Never-Before-Used-Schtuff) challenge
over at
Darnell's blog
is almost over but I really wanted to play because I am so grateful that she is regularly nudging us towards using the things we buy. My NBUS box is bursting at the seams and given the time I could have made hundreds of cards... Alas, time to create is still very scarce right now but I sat down yesterday and made a card. I really wanted to use this MFT sailboat die (that I have had for way too long) while real sailboats are still on the lake.
Stamps: None!
Dies: My Favorite Things (sailboat), Memory Box (waves), SSS (stitched rectangle), cloud unknown
I cut out the different parts of the sailboat from various PP, the waves from a recent play with spritz bottles and adhered everything to a stitched rectangle that I thought was a very light blue but looks grey on the photo.
Speaking of photo, I am suddenly unable to download photos from my camera to my computer. I have no idea why. Plus I also can't do a backup on my external hard drive. I just hope my laptop doesn't break down before get a new one... So this blog post almost didn't happen! But I took a photo of the card with my phone and managed to get it on the post (not hard but I had never done it before). Phew!
Challenges
(click on the links for more information and lots of inspiration):
NBUS #7
Simon Says Stamp Wednesday Challenge #30 - "Anything Goes"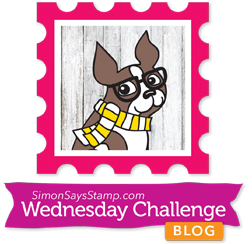 Virginia's View Challenge #23 - "Spray, Mist, Splatter"
Uniko Challenge #35 - "Inspired by a Song Title"
(In my case it's "Sail Away" by David Gray - one of my favorite songs, check it out if you don't know it!)
Thanks for stopping by despite my infrequent postings of late! Your visits and comments still make my day so please don't give up on me!
Be well,