Thursday night the
7 Cardologists
celebrated
Dora B.'s
birthday. It was actually right after Christmas but she preferred that we celebrate it later and this was the first time we were all together again.
This is the card I made for her and there is a funny story that goes with it. We all have a million of these dew drops (half domes made of glass) in every color that we bought when our LSS had them on sale way back when. So when we make a card often one of us suggests jokingly using some of our dew drops. That's why I wanted to use as many as possible on Dora's card. (12 used only 999,988 to go...) Also because I could hand deliver it. Those dew drops are very bulky and make mailing a pain. (I am thinking of challenging myself to use lots of them on all of their cards this year, shhh!)
I colored strips of vellum with the only set of Spectrum Noir Markers that I own. Bought them months ago and only opened them now! How sad is that!
Stamp: Avery Elle (sentiment)
Punch: Carl Carla Design
Sending this to the following challenges (Thank you,
Darnell
, for a very thorough list of Challenges, including links! Your rock!):
NBUS #3
(my Spectrum Noir markers), second entry
Simon Says Monday Challenge
"Old and New" (new are my Spectrum Noir markers, old are the dew drops)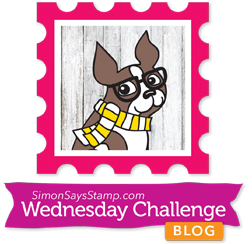 Simon Says Wednesday Challenge
"New" (my Spectrum Noir markers)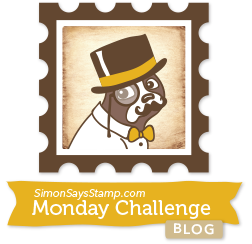 Seize the Birthday
(no toppings)
Pals Paper Art
Hope your weekend is fun and relaxed! Thanks for your visit and your kind comments! They make me so happy!
Hugs,
Susanne
P.S. Btw, I updated my last post with a new photo of the card made in daylight. Really didn't like the other one.